Bekijk direct
meerdere moodboards uit de rubriek Get the look!
Fly me to the rainbow
Residence selecteert een scala aan innovatieve ontwerpen, die zijn uitgevoerd in een strakke en toch organische vormen. Met ranke belijningen en kleurschakeringen die doen denken aan de regenboog en toverballen. Dit subtiele kleurenverloop lijkt veroorzaakt door een chemische reactie, wat voor een verrassend resultaat zorgt. De vormgeving is lichtvoetig en bijna 'zwevend' futuristisch. Het zijn stuk voor stuk eyecatchers die een vrolijke en frisse uitstraling creëren.
Moodboard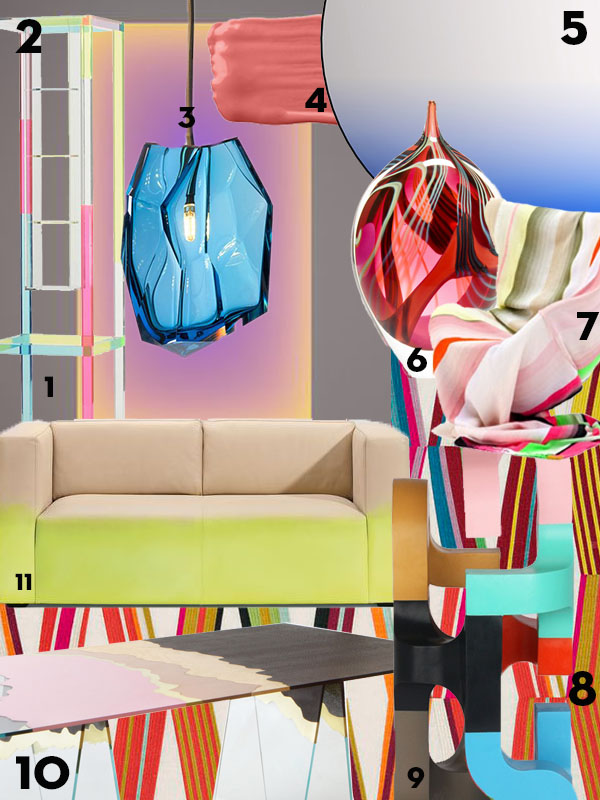 Bronnen moodboard
1.
Artwork by James Turrel via pacegallery.com
2.
Cabinet de Curiositie by Shiro Kuramata via 1stdibs.com
3.
Crystal Rock by Arik Levy for Lasvit via lasvit.com
4.
Colour, China Pink by Ralph Lauren via Ralphlaurenpaint.com
5.
Gradient Mirrow inspired by the earths atmosphere designed by Pillip Jividen via phillipjividen.com
6.
Inspiration, Glass, Vase via pinterest.com/residence
7.
Colour Plaid by Scholten & Baijings 2005 via scholtenbaijings.com
8.
Fabric Carriacou, Embroidery by Pierre Frey via pierrefrey.com
9.
Colourful artwork, Exhibition Digital Organic Polychromatic by Stephan Ormandy via olsenirwin.com
10.
Table de Milan by Monjoer Milan / Galerie Italienne via atelierbiagetti.com
11.
The River Sofa for Memphis Milano by Post Design via Atelier Biagetti
Etherische sferen
Dazzling interplay
Lollypop
Bronnen inspiratie
1.
Translucent boxes by Glass Italia 2014 Collection via glasitalia.com
2.
Drawstring Lamp by Gothenburg Studio Design Stories via dazeen.com
3.
Chest of Drawer by Lucia Massari via Luciamassari.tumblr.com
4.
Colour Floor Light by Daniel Rybakken and Andreas Engesvik via danielrybakken.com
5.
Artwork, Colour palet, inspiration via pinterest.com/residence
6.
Iridescent Copper Mirror by Studio Besau Marguerre via besau-marguerre.de
7.
Lamp, Phare No.1-9 concept by Simon Heijdens via Simon Heijdens.com
8.
Fabric Carriacou, Embroidery by Pierre Frey via pierrefrey.com
9.
Chair by Shiro Kuramata voa architonic.com
Bekijk ook andere artikelen uit de rubriek Get the look:
-
Get the look: Betoverende dessins
-
Get the look: Rustgevend blauw
-
Get the look: Get ready for spring
-
Get the look: 50 shades of black