Bekijk direct
meerdere moodboards uit de rubriek Get the look!
Intimate relationship
In deze
interieurstijl
voeren allerlei zachte tinten, zoals nudes, poedertinten, huid, pastel roze, gematteerd perzik, beiges, zachte bruintinten en wit de boventoon. Deze zachte en warme kleurtonen zijn mooi te combineren met koper, messing, metallic, hout,
marmer
en glas. Tip: gebruik stoffen met een zachte en aaibare structuur, zoals velour, fijngeweven- of vervilte wol en zacht leer. De vormen van de meubels, accessoires en kunstvoorwerpen zijn in deze look rond, zacht glooiend of gewelfd en biomorf (gebaseerd op levende organismen en vormen uit de natuur). Denk hierbij aan geërodeerde botstructuren, vissen en het menselijk lichaam zoals weergegeven in de sculpturen van Henry Moore (beeld linksboven).
Bekijk ook de interieurtrend Nude
Moodboard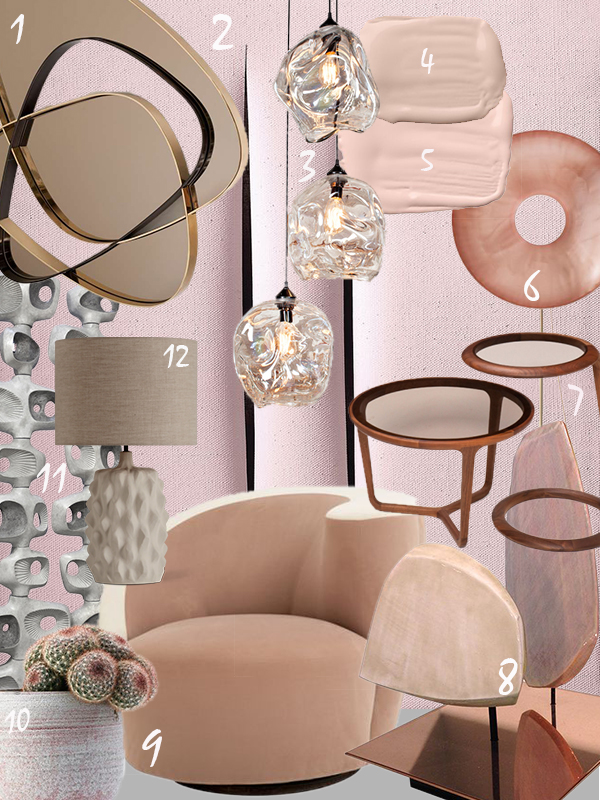 Bronnen moodboard
1.
Organic-shaped mirror Framed in Polished bronze named Clouds by Achille Salvagni via achillesalvagni.com
2.
Artwork, Concetto Saziale-Attese by Lucio Fontana via artnet.com
3.
Hand-blown sculpted glass pendant, Infinity Pendant by John Pomp Studios via johnpomp.com
4.
Inspiration colour, Pasha Pink by Ralp Lauren via ralphlaurenpaint.com
5.
Inspiration colour, Classic Pink by Ralp Lauren via ralphlaurenpaint.com
6.
Lamp named Parabola by Atelier Biagetti via atelierbiagetti.com
7.
Coffee table named Beside You by Noe Duchaufour Lawrance via Ceccotticollezioni.it
8.
Ceramic lamp by Pierre Yovanovitch and made by Armelle Benoit (Ceramist)
9.
Nautilus Chair by Vladimir Kagan via 1stdibs.com
10.
Vase with cactus by Adam Silverman Studio via adamsilverman.net
11.
Reform Temple Screen by Jonathan Adler via jonathanadler.com
12
.Baobab Ceramic Lamp by Porta Romana via portaromana.co.uk
Under my skin
Soft tones and lines
Pastel pink & powder nudes
Bronnen inspiratie
1.
Colour/Material inspiration via pinterest.com/residence
2.
Artwork, Building Dwelling Thinking by Lisa Sigal via nomagallerysf.com
3.
Colour inspiration via pinterest.com/residence
4.
Metal Spoons Collection by Yumi Nakamura via analoguelife.com
5.
Vase by Ryota Aoki via ryotaaokipottery.com
6.
Dino Chair, inspired by the balance between lightness and gravity by Thomas E.Alken via formatdesign.dk
7.
Artwork by Stef Driesen via pinterest.com/residence
8.
Inspiration, Sea urchins via pinterest.cpm/residence
9.
Coper plate named Thin by Ryohei Yoshiyuki via ry-to-job.com
Bekijk ook andere artikelen uit de rubriek Get the look:
-
Get the look: Betoverende dessins
-
Get the look: Rustgevend blauw
-
Get the look: Get ready for spring
-
Get the look: 50 shades of black