Bekijk direct
meerdere moodboards uit de rubriek Get the look!
De wilde jaren '70
Felle kleuren en psychedelische motieven zijn het kenmerk van deze jaren van uitspattingen en experimenten. Meubels in oranje, rood, geel, bruin en blauw in combinatie met bont bedrukte behangdesigns zijn met deze revival weer in ons interieur teruggebracht. Zij brengen veel kleur en vrolijkheid in huis.
Moodboard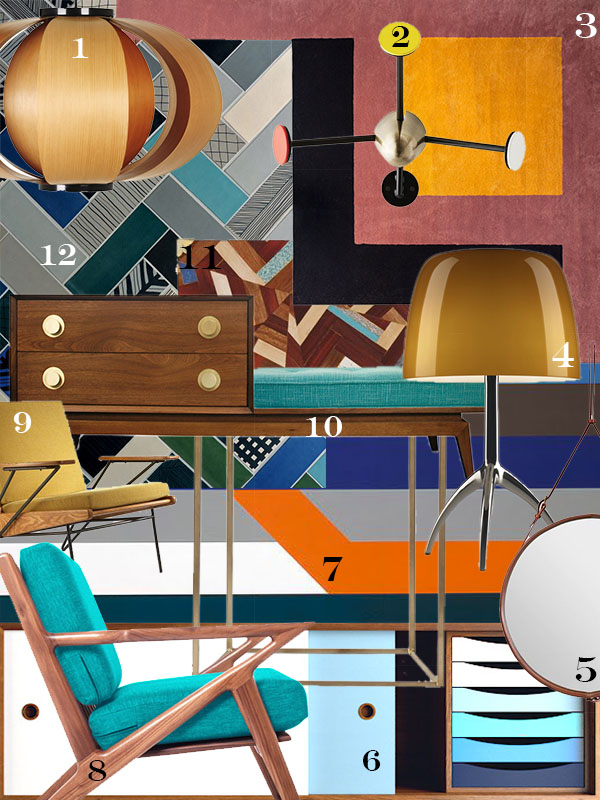 Bronnen moodboard
1.
Hanging lamp 'Coderch' by Jose Antonio via eupalinos.com
2.
Mategot Coatrack Color by Gubi via gubi.dk
3.
Handtuft rug 'Tappeto 02' by Dimore Studio/ Dimore Gallery via dimoregallery.com
4.
Table lamp 'Lumiere' by Rodolfo Dordoni via foscarini.com
5.
Gubi Adnet Mirror 45 by Jacques Adnet via gubi.dk
6.
Wooden cabinet 'Unson Credenza' by Joybird Furniture via joybird.com
7.
Artwork by Anton Stankowski via pinterest.com/residence
8.
Chair 'Soto' in the colour Aquatic by Joybird Furniture via joybird.com
9.
Vintage Armchair 1953 by Pierre Guariche via 1stdibs.com
10.
Claude Walnut Gossip Bench Set by Jonathan Adler via jonathanadler.com
11.
Cabinet 'Prism' by Studio Swine via studioswine.com
12.
Modern Graphic Tile, form the collection Mix & Match by Ornamenta via ornamenta.com
Vrolijke noten
Stijl iconen
Trendy mix
Bronnen inspiratie
1.
Geometric-shaped Lampframe Pendants by Herr Mandel via herrmandel.de
2.
Wall inspiration (storage) via jeannieskitchen.net
3.
Vintage Atomic Mid-Century Modern Clock by Steve Cambronne via stevotomic.com
4
Painted Metal and Brass Ceiling Light 1950s by Hans Bergström via housedecoratorscollection.com
5.
Rosewood Occasional Side Table Denmark via midcenturymodernfreak.com
6.
Wooden Armchair by Caarl Axel Acking via 1stdibs.com
7.
Inspiration via pinterest.com/residence
8.
Nadadora print by Blancucha via pinterest.com/residence
9.
Wooden cabinet 'Unson Credenza' by Joybird Furniture via joybird.com
Bekijk ook andere artikelen uit de rubriek Get the look:
-
Get the look: Betoverende dessins
-
Get the look: Rustgevend blauw
-
Get the look: Get ready for spring
-
Get the look: 50 shades of black